Terri Conn
(Katie Peretti Frasier)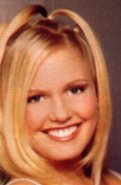 Terri Conn joined the cast of As the World Turns in September 1998, in the role of Katie Peretti, Margo's(Ellen Dolan) sister. She was good friends with Chris Hughes Katie is sneaky and very sharp and always gets what she wants! Katie was trying very hard to become a news anchor at WOAK where she worked with Holden, Molly and Denise. She tried very hard to seduce Holden and almost succeeded in breaking Lily and Holden up.
She is now married to Simon Frasier. Even though it was a marriage of convenience for Simon who didn't have a green card ..Katie is convinced that it is the real thing and will do anything to keep Simon for herself. Katie can be seen very often in scenes with Henry Coleman who is a troublemaker and is always hatching plans with her.
The actress, who was born on January 28, is from Albuquerque, NM. Her TV credits include Step by Step, Seventh Heaven, Malibu Shores, The Young and the Restless, Brotherly Love and Profiler. She was also a regular on Breaker High. She has also appeared in movies like Spitfire, HongKong 97 and Assumption.