Trent Dawson
(Henry Coleman)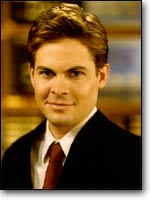 Trent Dawsonjoined the cast of As the World Turns in the fall of 1999 in the role of Henry Coleman. Henry quickly became an important part of the ATWT canvas as Katie's partner in crime. Henry nearly poisoned Molly, displayed Molly and Chris' compromising photos for all to see, and set up Chris to look like Katie's stalker. He is now the managing editor of the tabloid The Intruder.
Originally from Baton Rouge, Louisana Dawson has a lot of theatre credits to his name. He played Hamlet, Mercutio in Romeo and Juliet and he was also in a Broadway show called The Herbal Bed.
ATWT is his first major TV role. But he was on Guiding Light a couple of years ago. Trent Dawson lives in Manhattan and is currently single. He loves to rollerblade.