Kim Onasch
(Jennifer Munson)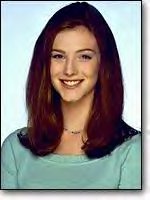 Kim Onaschstarted as Jennifer Munson on ATWT in July 1999. She is the daughter of Barbara Ryan and Hal Munson. She is currently involved with Bryant Montgomery.
Onasch was born in Rochester, NY on February 10, 1982. She moved to Yardley, PA at the age of four, with her parents, Dennis and Jean, and her older sister, Kristen. When she was fifteen, Onasch began her modeling career, and has appeared in such publications as YM and Glamour.
Though she attended Pennsbury High School for a time, Onasch is currently home schooling, and hopes to graduate in January 2000.
Her regional theater credits include A Streetcar Named Desire, Once on This Island, Taming of the Shrew, Hamlet, Alice in Wonderland and Rumors.