Todd Rotondi
(Bryant Montgomery)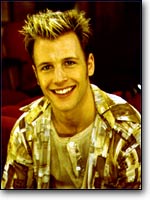 Todd Rotondijoined the cast of As the World Turns in February 2000, in the role of Bryant Montgomery. Bryant is Lucinda's grandson. His mother Sierra, is Lucinda's daughter. His father is Craig Montgomery. He is currently involved with Jennifer Munson.
Born in Winchester, MA, Rotondi attended Emerson College, where he earned a Bachelor of Arts degree in broadcast journalism. He also spent a semester at sea touring seven countries through the University of Pittsburgh. After graduating with a degree in broadcast journalism, he spent several years in Virginia as an investigative reporter. As The World Turns is his first television role.
Todd Rotondi has been in films such as "Celtic Pride" and "Leaving Scars". He also has Broadway credits such as "Counselor at Law" and "Hamlet" to his name.