Jaime Dudney
(Georgia Tucker)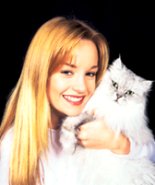 Jaime Dudney joined the cast of As the World Turns in July 1998, in the role of Georgia Tucker. Georgia is the daughter of Samantha Anderson

She is engaged to Eddie Silva (Nathaniel Marston) She killed Eddie's father Alec Wallace in self defense.

The actress was born on February 23. She is the daughter of country music star Barbara Mandrell and businessman Ken Dudney. Her TV credits include Days Of Our Lives, Diagnosis Murder and Get to the Heart:The Barbara Mandrell Story.