Paul Korver
(Chris Hughes)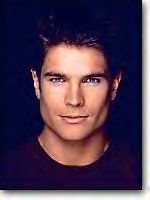 Paul Korveroriginated the role of Chris Hughes on As The World Turns in September of 1999. He replaced Ben Jorgensen. Chris was expelled form Columbia University.

He was good friends with Katie Peretti. He was going out with Abigail Williams.He left Oakdale in 2001 to go back to school.

Korver was born in Hartville, OH, and moved to Bellevue, WA at the age of five, with his parents, Gig and Marilyn. When he was twelve, he moved again to Pleasanton, CA, where he graduated from Amador Valley High. He then attended UCLA, from which he holds a Bachelor's Degree in Anthropology. He has two younger brothers, Matthew and Kevin, and a younger sister, Meleah.

The actor starred in the TNT movie Chips '99. His theater credits include Broken Heart, House of Blue Leaves and What Were You Thinking.