Peter Parros
(Dr. Ben Harris)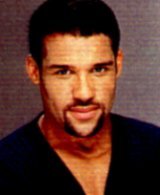 Peter Parros joined the cast of As the World Turns in July 1996, in the role of Dr. Ben Harris. He was a family friend of the Kasnoffs.
Ben dated Zoe Crane. He was also engaged to Camille Bennett. He then fell in love with Denise Maynard. He is currently getting close to Lien Hughes who is Tom's daughter. He has also recently taken in a boy named Curtis Thomson who has juvenile diabetes as his foster child.
Peter has been featured on the daytime dramas One Life to Live (where he also played a neurosurgeon named Ben), Santa Barbara and The Young and the Restless. In primetime he was a series regular on Knight Rider and The New Adam 12. Other programs that he has appeared in include Step By Step; Hanging with Mr. Cooper; Seinfeld; Star Trek: The Next Generation; and Charles in Charge. His feature film credits include Death Before Dishonor and Real Genius.
Peter is married, lives in West Orange, New Jersey and is the father of two young children, Sir Clayton and Petra. He was born on November 11 in Brooklyn, New York, and grew up in Los Angeles, California, and Salt Lake City, Utah. In his spare time he enjoys sailing, racquetball and watching action/adventure shows.
Photos: Ben and Camille